6 Tips to Stop Nursing School Burnout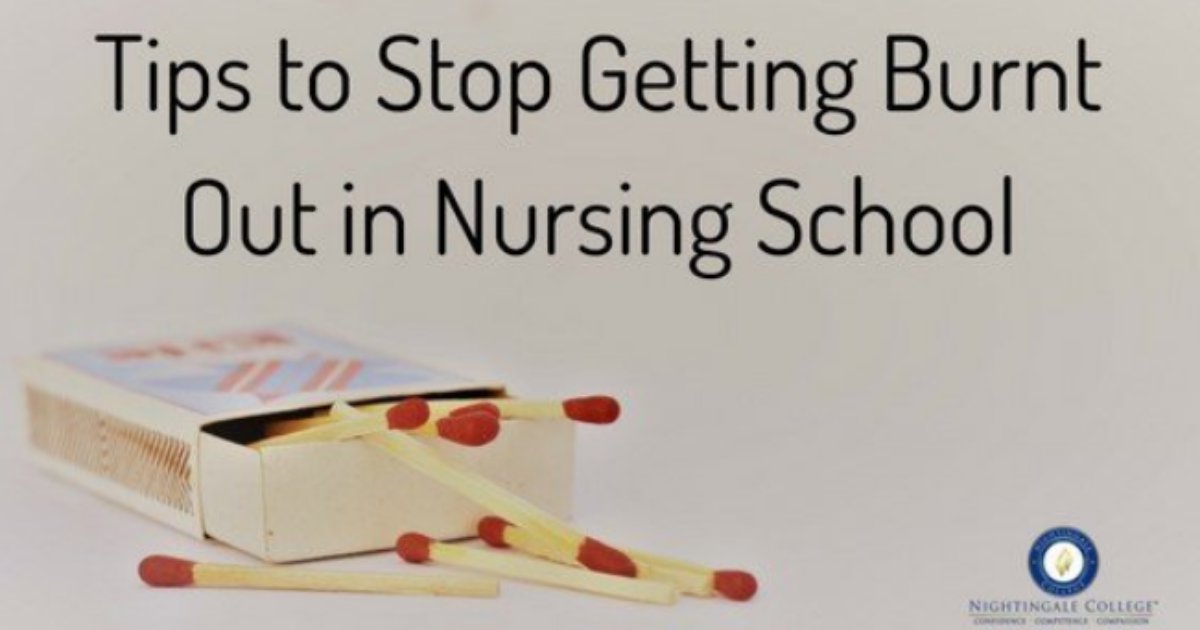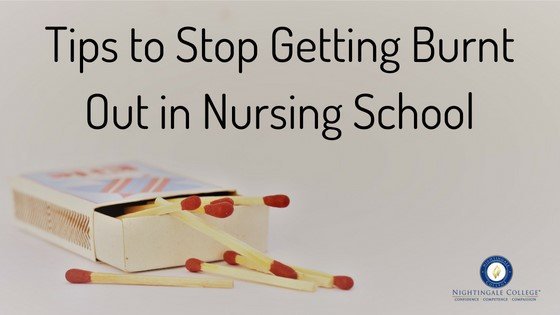 Have you ever done so much at once that you felt like you couldn't even function anymore, suffering from nursing school burnout? Well, we've all been there. Working super hard and trying to do every task at once is not the best way to be productive. In fact, it is more likely you will end up burning yourself out quickly if your attention is spread too thin.
In nursing school, there is a lot of memorizing, client care, reading and practical skills. Add that to an entire life with family, a social life, work and other responsibilities, and it can get overwhelming. Learners sometimes just want to get everything done as quickly as possible then end up wanting to give up.
How can you manage your life, family, maybe even a job, and avoid nursing learner burnout? Here are our top 6 tips to help you divide nursing school in to conquerable tasks.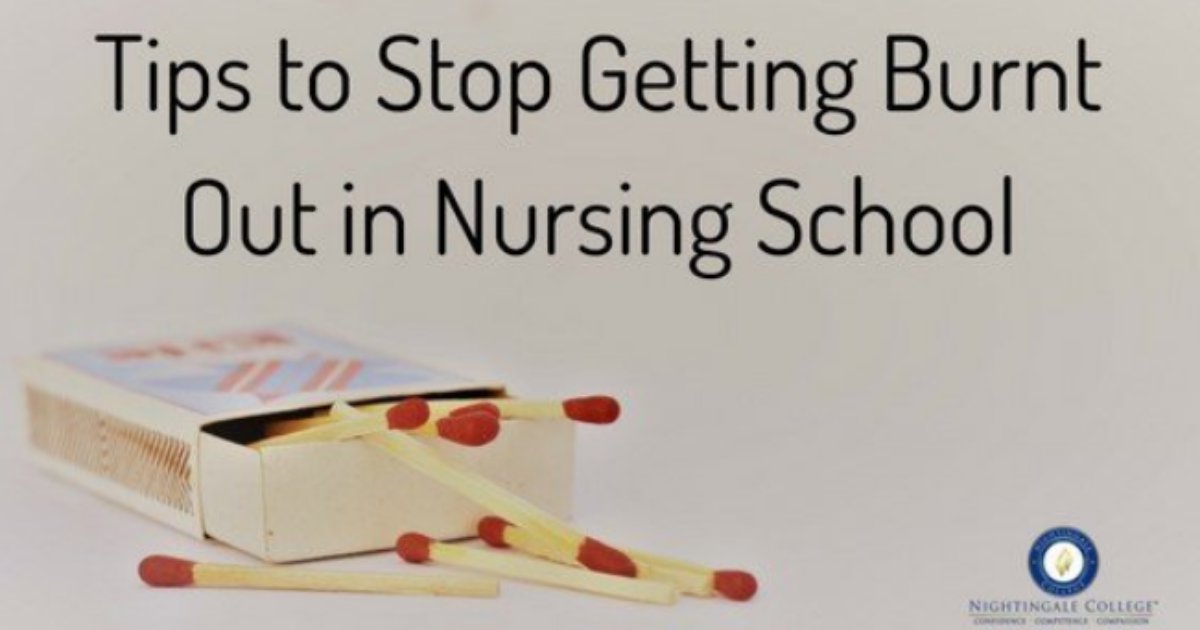 1. Adjust your expectations
It is sometimes hard to really understand how much time goes into nursing school. You don't get that coveted RN title behind your name without hard work and persistence. Start now by adjusting your expectations regarding the amount of time necessary to succeed.

Make sure you're devoting enough time for your studies. Having little time to study can cause stress, and make those precious hours fly by even quicker. Knowing you have enough time to succeed will help ease your mind and allow you to learn effectively. Adjusting your expectations will also help you avoid burnout since you'll be prepared with the right mindset for nursing school.
Using a planner schedule your days is a great way to ensure you are fully prepared to put in the required work.
Preparation is another important step to success, and being a nursing learner requires lots of it. Prepare the week ahead of you. Plan the days you are going to study for tests and the days you are going to complete the necessary assignments. Many learners find it helpful to assign days to each class; Monday you work on math, Tuesday anatomy, and so on. Others find they retain more if they review the material frequently, which means that they will study each subject for one hour each night. Find what works best for you!
If possible, think about the option of not working and getting a loan for nursing school, or at least cutting down your working hours so you can have more time and the ability to focus 100% on your studies.
2. Pick the right nursing field
Are you in the right field? Is it what you really like to do? Or do you wake up every morning thinking how much you wish you could change your career? When you are able to do something you are passionate about, nursing school burnout isn't as common among those who are not very aligned with the requirements of their position.
Take some time to reflect and ask yourself if you are pursuing the right career. It is important to make sure to figure out which field you like the best, so you can be sure you're on the right path. When you ask these questions and you find that the answer is no, that you're not pursuing the correct career, ask yourself why. Is it the stress, the emotional fatigue, or dealing with people that worries you?
In nursing, there are so many specialties you can choose from, each vastly different. Maybe you don't have enough emotional stamina to handle trauma cases in the ER, but maybe you could work in geriatrics or physical therapy, or something else with a slower pace. Figure out which one you like the most and go into it to pursue the career that you love, and that will be a good fit for your personality.
3. Pick the program best suited to you (ADN vs BSN)
Nursing learner burnout can be caused by choosing the wrong program. Are you looking to get done fast, but the accelerated pace is burning you out? Or are you finding the advanced concepts of a higher degree too much for your brain to handle? Here at Nightingale, we offer an ADN Program and a BDN Program. An Associates Degree in Nursing is an intensive course that takes less time than the Bachelor's Degree, but it is becoming more difficult to find an entry-level RN position that doesn't require a BSN degree. However, you can complete an RN-to-BSN Program after you graduate if you decide to enroll in an ADN Program.
ADN Program
At Nightingale College, the Associate Degree Nursing Program is 20 months, including prerequisites. This means that for 20 months, you're living and breathing nursing school and nothing else. This program can be overwhelming for some. It requires full focus. It's easier to fall behind and get burnt out in nursing school if you're enrolled in an accelerated program.
BDN Program
The Bachelor Degree in Nursing takes more time, 32 months including prerequisites, but it will secure your nursing future and open many more opportunities to nursing careers that require a BSN. The pace in a Bachelor's Degree Nursing Program also tends to be slightly more relaxed.
Online nursing school vs. on-ground
Also, consider if the program is online or on-ground and how this coincides with your learning style and life situation.
At Nightingale, we offer hybrid-online nursing programs, with classwork online and experiential learning on-ground. Deciding which program is the best for you can make a huge difference. Take a moment to talk to one of your admissions advisors, professors or counselors to give you advice on what would be the best for you so you don't end up in the throes of nursing school burnout. Click here to request an appointment with an admissions advisor.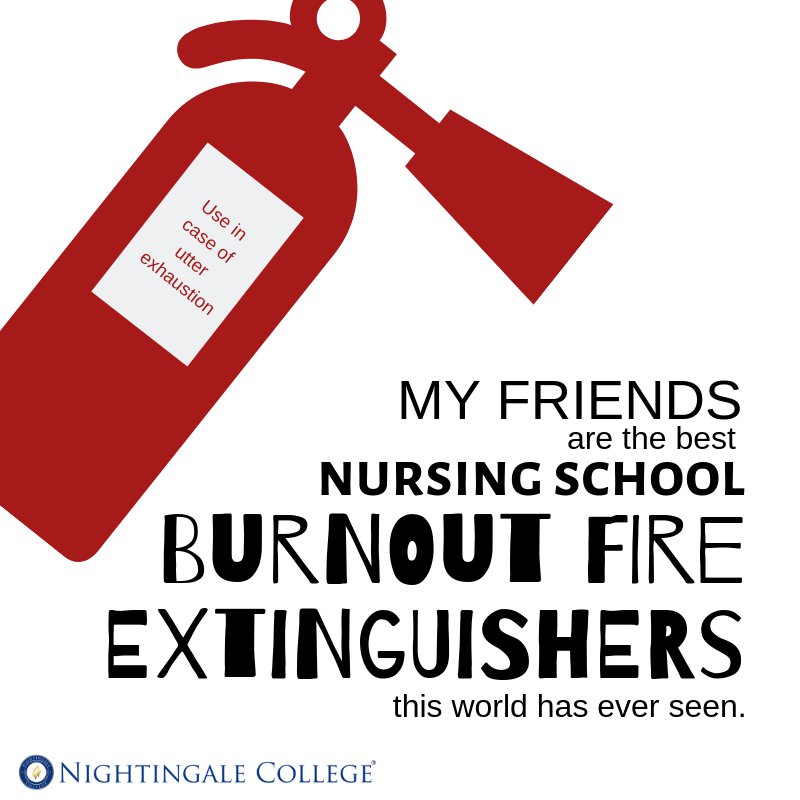 4. Nursing school friends are burnout fire extinguishers
You will make some of the best friends you ever have in nursing school. Friends that understand the craziness of nursing school can keep you sane and prevent burnout in nursing school. No one else can better understand the frustrating schedule changes, the early mornings, the demanding classes, and the unique challenges that rear their heads in nursing school. If you need help with your studies, someone to cry with, a ride, a word of encouragement, a smile, a drink, or a friend, your nursing cohort will be some of your most supportive allies. Simply knowing you're not alone can do wonderful things for your sanity.
Having trouble making friends? Maybe you don't get along with people in your cohort or you feel that you can't break into a click or clique. Some ideas to try are offering rides, bringing treats to share with the cohort, organizing study groups, encouraging others, and the biggest one, listening! Listen to others' needs and you'll soon find a friend.
5. Nursing school burnout resources
Did you ever think about all the resources already in place that help you to avoid burnout in nursing school? Many schools offer amazing resources for their learners. Research what your school offers, be it a librarian to help you research, a success coach, a mentor, career advice, counseling, extra tutoring, or office hours with a professor.
An amazing resource that we offer at Nightingale College is Learner Advising and Life Resources. Contacting us, you can get advice on time management, study skills, course load, text anxiety and studying with ADHD. We also provide information about safety and security, housing, commuter services, child care services, money management, veterans support, accessibility, counseling and human development, career and LGBTQ resources.
Utilize the resources available to you as a learner to avoid and prevent burnout. You can learn more about Nightingale College resources here.
6. Take time for self-care
Treat yourself! Take a day off, get a family member to babysit the kids, go to your favorite restaurant, or even get a maid for a day. You need some time to relax and get your mind away from books and assignments.
This is an essential step to get through nursing school without experiencing nursing learner burnout. Your health is one of the most important things you have and as a future RN, you will be an advocate for self-care and healthy well being. What would a nurse tell you about how you're taking care of yourself? Would they tell you, or would YOU tell you, to eat breakfast more than once a week, prepare healthier snacks, and not drink 6 energy drinks a day? Think about what you can do to take care of yourself a little more.
Nursing school is not easy, and there will be days where you feel like you want to quit, but we hope these tips will help you push through to graduation. The world is in desperate need of registered nurses. We're proud of you for answering the call. You can make it, and you will make a great nurse!
TL;DR
Just to refresh, the top 6 tips are:
1. Adjust your expectations
2. Pick the right nursing field
3. Pick the program best suited to you (ADN vs BSN)
4. Cling to your cohort
5. Utilize every resource available
6. Take time for self-care